GMO CORN SHIPMENT STIRS CONCERN AND ANGER IN KENYA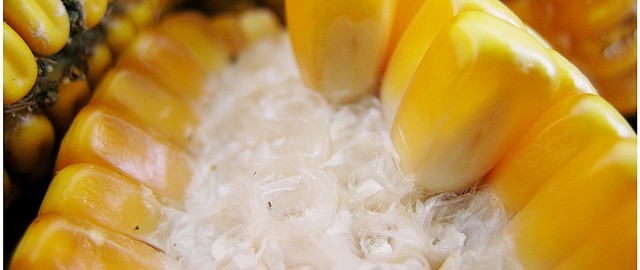 Kenyan civil society groups and small-scale farmers are outraged at the arrival of 40,000 tonnes of South African genetically modified (GMO) maize into Kenya through the Port of Mombassa earlier this year.
The Kenyan Biodiversity Coalition represents more than 65 civil society groups whose main objective is to ensure public awareness on issues concerning the environment, agriculture and biodiversity. It considers the entry of such a massive quantity of imported maize to be suspect, since Kenya had a bumper harvest this year, producing a surplus of maize.
"Farmers' maize is rotting and developing fungal aflatoxins in farms, yet the government is pumping billions to purchase contaminated maize," said coalition spokesperson Anne Maina. "These GMO varieties pose serious health concerns to children and those whose immune systems are compromised like people living with HIV/AIDS. Why are we allowing them in Kenya?"
Seeds for change
Jaswinder Singh, professor of Plant Science at McGill University, believes genetically modified foods are more helpful than harmful. "In my view, everything is GMO," because of cross-breeding and natural methods of modifying food. While the natural method of cross-breeding plants to make them more resistant to drought or disease has been used for centuries, genetic engineering involves inserting a gene from a non-plant species into the genetic makeup another plant.
Singh says that GMO technology can be used to make improvements in farming and food security, and GM foods can relieve hunger because of their resistance to drought and disease.
He believes that countries experiencing food shortages should be especially accepting of genetically modified food, as a substantial body of research points to the safety of consuming GMOs. "If we are expanding technology for useful purposes, I think there is no harm."
Singh predicted that it is only a matter of time before GMOs are accepted by all countries.
Contamination and other concerns
"Because Kenya is a large exporter of baby corn, or maize, serious issues will be raised if we embrace biotechnology, as it will present risks of contamination," Maina said. She is concerned that the entry of GMO crops into the Kenyan ecosystem could damage existing crops through cross-fertilization and contamination.
The shipment also could seriously compromise an economic partnership agreement between Kenya and the European Union (EU) that is in the process of being negotiated. The EU has outlawed the specific genetically modified organisms that the maize shipment into Mombassa contained due to safety, health and environmental concerns.
GMO legislation and loopholes
On February 12, 2009 Kenya passed the Biosafety Bill, which regulates the movements of GMOs, in an effort to open the door to the commercial production of GM crops. This bill also established the National Biosafety Authority, a committee in charge of addressing the health and safety issues arising from GMOs.
Although the Biosafety Act states that a person shall not import GMOs into Kenya without the written approval of the National Biosafety Authority, the Authority did not start operations until April 2010, three months after the imports entered the country. Kenya has not imported any genetically modified foods since that date. Harrison Macharia, Chief Executive Officer of the National Biosafety Authority said, "as far as this office is concerned, Kenya has not yet started business on GMOs."
Under the Biosafety Act, as well as the Cartagena Protocol (an international agreement on the transportation of GMOs, of which Kenya is a signatory), the government is obligated to alert the public of the presence of GMOs before they enter the country. "In Kenya, this unfortunately never happened," Maina said. "Most people don't know about the genetically modified maize."
Current farm policies are a recipe for disaster, says Olivier De Schutter, UN Special Rapporteur on the Right to Food
"The provision of chemical fertilizers, the greater mechanisation of production or the expansion of irrigation seem far away from the professed commitment to fight climate change and to support small-scale, family agriculture. In reality, these "solutions" will mostly benefit the larger plantations. And it is their industrial model that is expanding.
If we were to stick to this approach, this would be a recipe for disaster, threatening the ability for our children's children to feed themselves. Agriculture is already directly responsible for 14 percent of man-made greenhouse gas emissions – and up to one third if we include the carbon dioxide produced by deforestation for the expansion of cultivation or pastures.
As a result of temperature changes, the yields in certain regions of Sub-Saharan Africa are expected to fall by 50 percent by 2020 in comparison to 2000 levels, and conservative estimates locate the global agricultural capacity in 2080 between 10 and 25 percent below the current levels."
Via: Up Stream Journal
https://africanbiodiversity.org/wp-content/uploads/2014/06/gmo-corn-shipment.jpg
493
640
mumbi
https://africanbiodiversity.org/wp-content/uploads/2022/03/ABNlogo.png
mumbi
2014-06-29 08:59:16
2014-06-29 08:59:16
GMO CORN SHIPMENT STIRS CONCERN AND ANGER IN KENYA